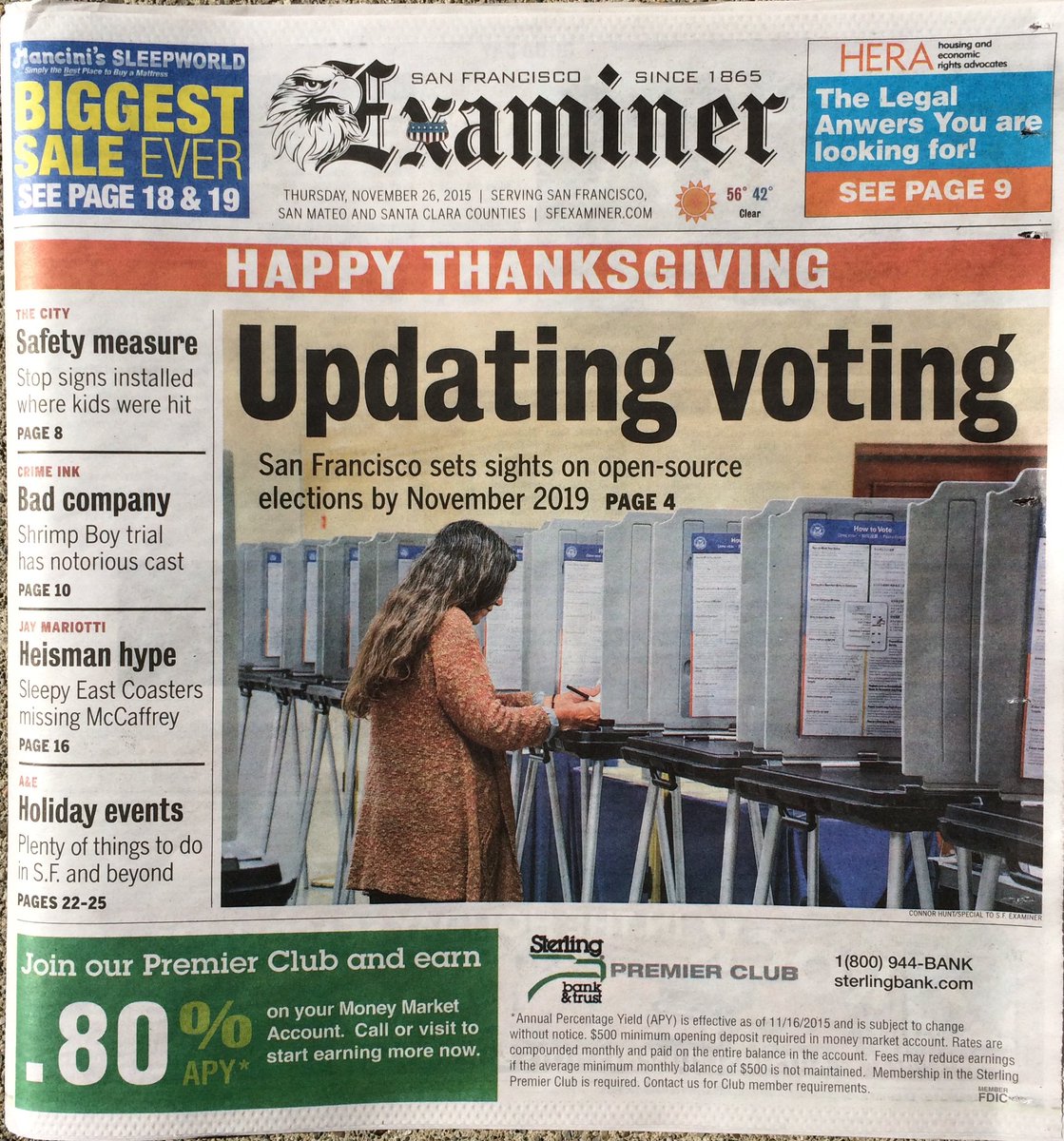 As many may know, the OSI has been involved in supporting the adoption of an open source elections system in San Francisco, California. The following is an update from Chris Jerdonek, Elections Commissioner & President of the San Francisco Elections Commission.
We'd like to thank Chris for all of his hard work in raising awareness of open source software and its value for elections as well as keeping all of us up to date on the latest developments. If you'd like to learn more about the project, please contact Chris directly.
---
---
Hello open source voting followers and fans!
This is the first 2017 update on San Francisco's project to develop and certify the country's first open source voting system! The last update from me was in early October.
Also, welcome to those who signed up in support of open source voting at last Wednesday's Reboot Democracy event in SoMa. After that event, the mailing list grew to nearly 200 recipients (almost all local to SF).
Since it has been several months since the last update, this will be a long post–you don't need to read it in one sitting. 🙂
(Also, a disclaimer: while I serve as a member of the San Francisco Elections Commission, I'm writing this update as an individual and not in my official capacity as a Commissioner.)
Main Action Item: Before getting into the nitty-gritty "newsletter" portion of my e-mail, please spread the word about the Department of Elections's upcoming open source voting RFP!
Within the next two or three months, the SF Department of Elections will be issuing an RFP for someone to lead the planning phase of the City's open source voting system project. The planning phase will need to be finished by January 2018 (i.e. a year from now, in time for next year's budget process). The City has allocated $300,000 towards this phase.
If you know anyone who might be interested in applying, please start spreading the word.
This project will be a great opportunity to have a meaningful impact on the world and to play a leadership role in something truly historic involving both technology and democracy. In my opinion, the ideal applicant is someone with a strong commitment to and background in open source (e.g. comes from the open source community) and has broad skills including both technical expertise as well as experience in project management. The person will need to work with stakeholders both inside and outside government — and set the project up to succeed both technically and organizationally.
My understanding is that the role will be fillable by either a single person or a group of people, but applicants will need to comply with SF procurement rules, etc (so it would be good to start becoming familiar with those).
Now on to the newsletter…
SF Open Source Voting – February 2017 Update / Newsletter
San Francisco RFP update
Local Media / News coverage
Reboot Democracy event
SF Voting System Extension
Commission Annual Report
Future Commission Meetings
---
San Francisco RFP update
At last month's San Francisco Elections Commission meeting on Jan. 18, Director of Elections John Arntz gave the Commission his first written status update on the open source voting project. You can read that update at the following link (by clicking "Director's Report" and reading section A): http://sfgov.org/electionscommission/commission-agenda-packet-january-18-2017
Among other things, Director Arntz said that the RFP for the planning phase of the project "is expected to be issued within the next two to three months."
At the January meeting, after initial remarks by the Director, several Commissioners and members of the public (including myself) communicated strongly to the Director that the purpose of the planning phase should be to complete the groundwork needed to begin the actual development of the system. For those interested in hearing the full discussion, you can listen to the audio of the agenda item on YouTube here (the hyperlink points directly to the beginning of the agenda item — agenda item #6, Director's Report, and related discussion bleeds into the following agenda item, item #7).
It's true that things seem off to a slow start (certainly slower than I had hoped). But the November election was a very busy time for the Department — both leading up to Election Day and afterwards with the completion of the canvass. And this election was especially busy in San Francisco with a voter turnout of 80.7% in SF (as a percentage of registered voters).
The good news is that no elections are scheduled for 2017 in San Francisco, which means that the Director should have a lot more time this year to devote to open source voting. And the sooner the Director issues and awards the RFP, the sooner there will be a resource dedicated solely to working on this issue.
---
Local Media / News coverage
There has been some great media coverage of open source voting in San Francisco in the past few months. Here are a few examples:
---
Last Wednesday, Jan. 25, I was invited to speak about the SF open source voting effort at an inspiring, well-attended civic tech event in SoMa called "Reboot Democracy Reunion."
About 120 people attended, and more than 50 people signed up in support of the project after speaking. If you know any other events or people I should speak to, feel free to get in touch.
---
SF Voting System Extension
Starting on Oct. 17, 2016 and ending with the Mayor's signature on Jan. 20, 2017, the Mayor and Board of Supervisors approved an ordinance authorizing the Department of Elections to extend its current voting system contract with Dominion Voting Systems by two years.
The contract previously expired on Dec. 10, 2016. With the extension, it will expire on Dec. 31, 2018. This was necessary because the City has to have some voting system in place. The 2-year extension will be at a cost not to exceed ~$2.3 million. This will increase the cost of using the system over its nearly 10-year lifetime from $19.7 million to ~$22 million.
The per-election costs in the ordinance are 33% higher as compared with previous years, and the annual fees increased by 25%. These increases occurred despite the fact that the system is the same system that San Francisco first got 9 years ago in 2008, and despite the fact that the system might not be used in 2017 (because of no scheduled elections).
This latest voting system extension provides one more example of why developing an open source voting system would be beneficial to the City and other jurisdictions across the country. San Francisco had little choice here because of vendor lock-in and the proprietary nature of the system: jurisdictions have very little negotiating power when "locked in." With open source, the City would have much more freedom to choose a service provider because the system wouldn't be controlled by any one entity.
You can find more information about the voting system extension here (e.g. the legislative history, analyses, etc): https://sfgov.legistar.com/LegislationDetail.aspx?ID=2861447&GUID=2E15E282-D250-4191-A85D-361F27E8B6C8
One amendment the Supervisors added to the ordinance is that the Director of Elections needs to provide a written update and presentation to the Board of Supervisors during the FY 2017-18 and FY 2018-19 budget processes (i.e. sometime this spring and again next spring) on the status of implementing the open source voting system. This amendment is a good thing because it shows that the Board wants to see progress, and because it provides an opportunity for more publicity and transparency around the project (even more than in monthly Elections Commission meetings).
---
Elections Commission Annual Report
For those who would like to know more about the history of events in SF government around open source voting (especially those new to the issue), the Elections Commission's 2015 Annual Report (which I drafted and that the Commission passed) contains a lot of this information. It can be found at the top of this page: http://sfgov.org/electionscommission/commission-annual-reports
---
Future Commission Meetings
Finally, at the Elections Commission's last meeting on Jan. 18, several Commissioners expressed interested in having a "standing" agenda item on open source voting (i.e. an open source voting agenda item at every meeting). This would let the Commission discuss and take action on open source voting at any of its regular meetings, if necessary. The Commission meets every third Wednesday of the month at 6pm in Room 408 of SF City Hall.
The Commission's Budget and Oversight of Public Elections Committee (BOPEC) also has open source voting on the agenda of its meeting later today. BOPEC meets the first Wednesday of every month at 6pm in Room 421 of City Hall (though their meetings are sometimes canceled since the meeting isn't always necessary).
It would be great for members of the public to come by and give public comment in support of open source voting at any of these meetings (and especially the full Commission meetings when more Commissioners are present).
Thanks for reading and for your continued interest and support!
Best,
–Chris